Places That Inspired Northern Michigan's Greatest Authors: Hemingway, Harrison + Voelker
By Jeff Smith and Lissa Edwards
Excerpt from the September issue of
Traverse, Northern Michigan's Magazine
published on
MyNorth.com
, September 13, 2017

– Hemingway's Little Traverse –
There would be other loves—Paris bistros, Cuban cats and cigars, marlin off the Florida Keys, Montana's heavenly skies. But before all of that, Ernest Hemingway was infatuated with Northern Michigan. He married his first wife, Hadley, here almost a century ago. That event, set in the village of Horton Bay on Lake Charlevoix, closed the Northern Michigan chapter of Hemingway's life. But by then the landscapes, landmarks and characters of our region had so infused his imagination that they came pouring out in the now legendary stories he wrote in Paris, where he and Hadley moved soon after their wedding. Most notably, Paris is where Nick Adams came to life—that quintessential Northern Michigan summer boy that stars in many of Hemingway's stories.
So many of the landmarks that he quilted into those stories still exist, that to see them is to feel the writer's very presence. Hemingway junkies are all but guaranteed spine tingles. And even if you don't care a hoot whether your writing is crisp and verb-filled (Hemingway) or cloying and flowery (virtually every writer before him) you'll be inspired by the landscape, pubs and eateries along this trail. Brush up on your Hemingway 101 and follow along as we introduce you to Hemingway's Northern Michigan years.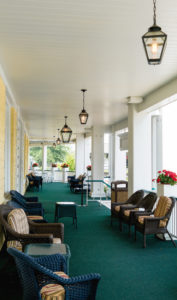 Stay …Where Hemingway Stayed:
The lemon yellow Stafford's Perry Hotel, on the corner of Bay and Lewis Streets was built in 1899—the same year Hemingway was born. He stayed here when he was 17, after a hiking and camping trip. Relax in one of the 75 guest rooms and you'll know how young Ernie felt when he returned to civilization after his trip.

Tour
Sumner Road public access on Walloon Lake: As a teenager, Hemingway rowed from Windermere, across Walloon Lake to the end of Sumner Road. A mile-and-a-half-walk landed him in the hamlet of Horton Bay where he had a number of friends and adventures that would figure heavily into his stories. Years later he would pen a scene in his story "Wedding Day," in which Nick Adams and his bride, Helen, launched here to row across the lake to a honeymoon cottage after their wedding. Not coincidentally, this is also where real-life Ernest and his bride Hadley rowed away to spend their honeymoon night across the lake at Windermere after their wedding.

Horton Bay General Store: This 19th-century white clapboard building in the middle of town makes an appearance in both "Up in Michigan," and "The Last Good Country." Take a seat on the front porch like Hemingway often did. Better yet, nowadays you can do what he didn't do: stay in the B&B above the store, have a drink in the tavern in back, and enjoy breakfasts, lunches and special tapas dinner.

Pinehurst and Shangri-La: These two privately owned cottages on Lake Street are what is left of the Dilworth Resort where Hemingway bunked (in the back of Pinehurst) when he was in the village. The Dilworths hosted a wedding breakfast for the newly married Hemingways in Pinehurst. The Dilworth Resort makes an appearance in "Summer People," and "Up in Michigan."
Public access on Lake Charlevoix: Continue down Lake Street to where it ends at Lake Charlevoix and you'll know the setting Hemingway was imagining when he wrote "The End of Something," "Summer People," "On Writing," and "Up in Michigan."

City Park Grill
City Park Grill: Lore has it that the aspiring writer liked the second seat from the end of the bar. Great food and live music means it's still a fun place. 432 East Lake Street.

Little Traverse Historical Museum: To get your Hemingway bearings, stop in at this train station-turned-museum. Not only does it have a fascinating and permanent Hemingway exhibit but the writer also mentioned it in "The Indians Moved Away."

The Carnegie Building: Once the Petoskey Public Library, this building was a favorite place of Hemingway's when he was living in Petoskey during the winter of 1919–20. In December of 1919 he spoke here to the Ladies Aid Society about his experiences in World War I—memories that became the basis of his epic "A Farewell to Arms."

Event: Michigan Hemingway Society Annual Conference, October 6–8, Terrace Inn, Petoskey. Register here.


Must-Read books by Hemingway
The Nick Adams Stories
//
The Torrents of Spring
//
For Whom the Bell Tolls
Also read:
Picturing Hemingway's Michigan
by Michael R. Federspiel
Jeff Smith is editor of Traverse Magazine, smith@traversemagazine.com.
Elizabeth Edwards is managing editor of Traverse Magazine, lissa@traversemagazine.com.
---
For the first 22 years of his life, Pulitzer and Nobel Prize-winning Ernest Hemingway spent his summers exploring the woods and waters of Walloon Lake, Horton By, Petoskey and the neighboring communities of Northern Michigan. It was here he discovered his love of fishing, hunting and writing. It was here where many of the scenes and characters for his future works would be shaped—most notably, those of Nick Adams.
Literary and history buffs are quick to reference Chicago, Paris, Spain, Cuba, Key West and Ketchum as locales where Hemingway made an impact. Yet, it was Northern Michigan which held what some consider the most treasured place in the author's heart. Except for a single night in 1947, when he was passing through Michigan on his way west, Hemingway never saw this region again after his September 1921 marriage in Horton Bay to Hadley Richardson."
Hemingway had a very special place in his heart for Northern Michigan. The memories and images in his mind found their way into his works throughout his life, even when the stories were set in other locales around the world," says Chris Struble, president of The Michigan Hemingway Society. "He remarked to his sister, Ursula, in a letter from 1943 that his time here was the clearest part of his life. But life changed him and he was afraid that if he came back, it wouldn't be the place he remembered and he couldn't risk losing what he had known and loved."
Several events are planned in Petoskey this summer and fall to pay tribute to Hemingway and the impact he made on this region of the state.
www.MichiganHemingwaySociety.org
---
Stafford's Perry Hotel to Host
Third Annual Hemingway Birthday Celebration
Petoskey, Michigan
July 21, 2017
The afternoon's public festivities begin around 4pm with a statue dedication in Pennsylvania Park just south of Lake Street, near City Park Grill. Sculpted by award-winning artist Andy Sacksteder of Gladstone, in Michigan's Upper Peninsula, the bronze statue honors Hemingway's youthful summer spent in Northern Michigan. The sculpture was commissioned and funded by the late Robert Dau before his passing in 2015.
Later in the afternoon, Stafford's Perry Hotel will host its 3rd Annual Ernest Hemingway Birthday Celebration at 5:30 pm. Hemingway was born on July 21, 1899 in Oak Park, IL and made his first trip to his parents' northern Michigan cottage on Walloon Lake at the age of three months. Years later, at the age of 16, he and a friend set out to hike their way from Illinois to Petoskey for the summer. His friend bailed at Traverse City, but Hemingway continued on and stayed night at The Perry Hotel (built the same year he was born), paying 75 cents for the room before heading down to the family's cottage, Windemere, on Walloon Lake.
Hemingway historians, including University of Pennsylvania Professor and best-selling author Paul Hendrickson, who published Hemingway's Boat: Everything He Loved in Life, and Lost (2012), are among the featured guests during a four-course dinner inspired by the author. Copies of his book will be available during cocktail hour, along with book signing.
Following dinner, the premiere of "Young Hemingway & His Enduring Eden," written and produced by Dr. George Colburn, will be shown at The Perry Hotel. This documentary is scheduled to be televised on PBS in two segments in 2018, following a Europe World Premiere of the documentary in Paris in July of 2018.
Tickets for the Birthday Celebration are $65 per person and a portion will benefit The Young Hemingway Documentary & Education Project. To purchase tickets and make reservations, call Stafford's Perry Hotel at 231-347-4000.
---
Michigan Hemingway Society Conference
Petoskey-Bay View, Michigan
October 6-8, 2017
This year the Michigan Hemingway Society is hosting its annual literary and history conference, Friday evening through Sunday afternoon, October 6-8, at The Terrace Inn in the Petoskey, Michigan, Chautauqua community of Bay View.
Founded on the shores of Lake Michigan in 1875, Bay View has maintained its historic buildings, homes and charm. Hemingway was very familiar with this community when he lived in Petoskey for that last time. Throughout the weekend, attendees will tour some of the old Victorian buildings and cottages, exploring their architecture and learning the detailed history of the community.
There is a plan for a special event on Sunday afternoon, with attendees recreating an infamous party that Hemingway attended in one of the Bay View cottages.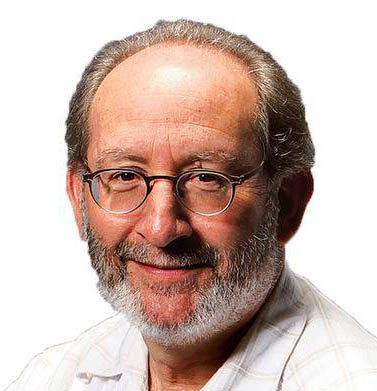 This year's keynote speaker is Steve Paul, the author and edit or of several books including Hemingway at Eighteen: The Pivotal Year that Launched an American Legend, due out this fall. Paul recently retired from the editorial board of The Kansas City Star after 41 years. Starting out on the city desk, he was a longtime arts and culture editor, book critic, special assignment writer, projects editor and writer, mentor and coach to young writers and teachers, and producer of high-profile feature stories on culture, music, architecture, books, people and the city.
Hemingway himself started his writing career at The Kansas City Star. After graduating from Oak Park River Forest High School in 1917, he left the culturally-rich environment there in the Chicago suburbs, as well as the freedom of summers in Northern Michigan, when he moved to Kansas City to become a journalist. If all his trips to Kansas City were added together, he lived and worked in that town for a little more than a year—the longest stay, for six months, was when he was a cub reporter from October 1917 until April 1918.
From there he joined the Red Cross as an ambulance driver in Italy during World War I, returning the following year to the United States, and finally to Petoskey as a wounded and decorated war veteran. He then married his first wife, Hadley Richardson, in Northern Michigan, and the two moved to Paris. While there, Hemingway began freelancing for the Toronto Star, writing fishing sketches before becoming a foreign correspondent.
Membership in the Michigan Hemingway Society is $20 per calendar year, $30 for a family or $10 for students. Join online and register for the conference at www.MichiganHemingwaySociety.org. Benefits include a reduced fee for the annual conference, a printed copy of the MHS Newsletter and periodic updates of MHS News.

The Michigan Hemingway Society has been active since 1983 and was incorporated officially as a non-profit organization in 1993. Made up of university professors, writers, high school teachers, fly fishers, journalists and all kinds of other people who are interested in exploring the life and body of literature created by this Nobel prize-winning author, The Michigan Hemingway Society's group volunteer energies have been focused ad hoc, on such events as its annual Hemingway weekend, the membership newsletter and maintaining the organization's website and Facebook page.
www.michiganhemingwaysociety.org | www.facebook.com/MiHemingwaySociety
#MiHemingway #Hemingway #HemingwayInMichigan #PetoskeyHemingway #UpInMichigan
Check out the Visit Michigan Up North website for more information on Hemingway's Northern Michigan Connection.
---
West Bloomfield High School Visits
Hemingway Country
by Jennifer McQuillan
English Department, West Bloomfield High School
Is Hemingway still taught in American high schools?
This was a question that came up during the Michigan Hemingway Society Conference last fall. As a veteran high school English teacher, I've been attempting to answer that question on a national level, but I've found that it's going to take me more time and research, so I've decided to answer it on a decidedly more personal note: YES, I'm teaching Hemingway - selections from the Nick Adams stories - at West Bloomfield High School in West Bloomfield, MI. As a matter of fact, this year, every tenth grade student in our high school read Hemingway's "The End of Something" for the first time in my eighteen years of teaching here, and that's because of the connections we've forged between our Literary Garden and the Michigan Hemingway Society. Imagine - bonding over some Horton Bay mint!
We also made history - as far as MHS President Chris Struble can remember - by becoming the first high school in recent memory to take a field trip to Hemingway country on May 15, 2017. Fifty-two sophomores, juniors, and seniors made a one day trip to Horton Bay and Petoskey to visit sites associated with Hemingway's early life and the Nick Adams stories. Chris and I tag-teamed our teaching at these sites; Chris handled the local history and Hemingway background, and I handled the literary symbolism and connections. Dr. George Colburn helped to coordinate much of the trip and filmed parts of the day, interviewing students as part of his Young Hemingway film and planned educational modules. Students loved the living outdoor "classrooms!" They plunged their own hands into the cold spring and tasted the mint mentioned in the beginning of "Summer People," the same mint we have growing in our Literary Garden at West Bloomfield High School. They sloshed into the waters of Walloon Lake and wrote Hemingway's name into the sand there. Best of all, Chris and I held a fantastic conversation about "The Big Two-Hearted River" with stunning views of Lake Michigan behind us and the ghostly remnants of the Arlington Hotel smoldering below.
Of course, no trip to Petoskey would be complete without fudge and ice cream, and the kids were grateful when Chris gave them some time to give in to sugary temptation. Then it was off to the Little Traverse Historical Museum with Director Jane Garver to see even more Hemingway artifacts (that wedding invitation! that priceless Hemingway signature!) and local Petoskey history before we wrapped it up for the day and the long ride back downstate.
My students want me to plan another trip for next year, and I have staff members clamoring to come, as well! Here's what some of the kids had to say:
"The most recent Hemingway trip was the perfect blend of fun and learning, as we were able to see exactly what Hemingway saw and felt, even though it was decades ago..."
"Seeing the history and nature of the area helped me to love the area enough that I will be taking my family around to the areas we were up north. Learning about Hemingway's life was also helpful in helping me to understand what he was trying to convey with his writing."

Thank you to Chris Struble, Dr. George Colburn, and Jane Garver for all of their hard work and boundless enthusiasm in making this trip a reality! You can bet we will be back next year!​
---
Hemingway Statue & Birthday Celebration
by George Colburn
Contemporary Learning Systems
We are moving close to the Big Moment on July 21 when the statue of Ernest Hemingway will be dedicated in Petoskey and the American premiere for the documentary Young Hemingway & His Enduring Eden will be held at the Perry Hotel. I hope you all can make it for this once-in-a-lifetime event.
Paul Hendrickson will attend and make remarks at the dedication and at the premiere dinner. The sculptor of the statue will also be attending also. A social hour is planned at 5 p.m. that will feature both of them, and we are hopeful that several of the "Emerging Writers" chosen by the PEN organizations (with funding by the Robert Dau family trust) will be in attendance.
July 21st, 2017, is not the end of the work on the Young Hemingway Project. There will be filming on the 21st so that segments to include the statue and what it means can be added. The newer version will be premiered at the 2018 Hemingway Society conference in Paris, where the final segment will be filmed. Then preparation will begin for a TV presentation in the 2018 - 19 TV season.
Between the two birthdays, our primary goal is to create the educational version of "Young Hemingway." We have a team of teachers ready to advise us how to edit our documentary for maximum impact in the classroom and to produce with our production team a pilot ELM (electronic learning module) for possible distributors to consider.
Chris Struble and George Colburn have been getting a little practice with teachers and students by hosting two "Saturday Mornings with Ernie and Nick" sessions at the Petoskey Library in the past month and spending all day May 15 at Hemingway locations in the area with approx. 55 students from a downstate high school (the teacher, a member of the MHS, will be one of our consultants on the development of the educational package). On the right is a photo of Chris and George hard at work on the steps of the Horton Bay General Store.

From the very beginning of the Young Hemingway Project in 2012, the goal has been to create a solid educational program - something that will be used by teachers for many years. If you would like to help support the creation of the theatrical version of this project please visit the project's website at www.hemingwaysmichigan.com. Additional information about Contemporary Learning Systems may be found at www.contemporarylearning.org
---
The Hemingway 100-Year Graduation Party
Saturday, June 17, 2017
7:00 PM – 10:00 PM CDT
The Ernest Hemingway Foundation of Oak Park is pleased to announce its second annual Hemingway Benefit, "The 100-Year Graduation Party," on Saturday, June 17, from 7 - 10 p.m. at the Hemingway Museum. This celebratory event will commemorate Hemingway's graduation from Oak Park River Forest High School in 1917. What's more, the benefit is a testament to our mission statement because it supports the development and mentoring of young writers through the EHFOP Scholarship Fund and essay contest.
Hemingway honed his literary style writing for the Oak Park River Forest High School student newspaper, The Trapeze, and the student literary magazine, The Tabula, which lives on as the school's annual yearbook. Since Ernest's graduation in 1917, thousands of students have walked the same halls, inspired by the school's most illustrious alumnus. The Foundation considers it an honor to preserve the legacy of Oak Park's native son through support of his birthplace home and museum, which are visited by thousands of people each year.
The evening will feature performances by the OPRFHS Jazz Ensemble and the Julian Spoken Word Club, delicious food from Winberie's, cocktails by Papa's Pilar, wine, Lagunitas beer, and a fabulous silent auction. Guests will have the opportunity to take a picture alongside Ernest's yearbook photo and write a Hemingway inspired six-word short story on a vintage typewriter. We will also introduce our second annual publication of "Hemingway Shorts" — a collection of short stories submitted by emerging writers, as well as the publication of the top three student essays.
In addition to proceeds benefiting the Foundation's current programming and birth home maintenance, we will introduce the winner of the second annual EHFOP Scholarship Fund. It will be awarded to an incoming senior at Oak Park River Forest High School and will include a mentorship with our 2017-2019 Writer-in-Residence. Ten percent of the benefit's proceeds are allocated to this fund.
Tickets purchased for the event include a one year membership to the Ernest Hemingway Foundation of Oak Park. This event is also the Foundation's annual meeting. Cocktail attire is suggested.
Generously sponsored by:
Lisa and Ray Lewis
Wednesday Journal
House of Heat
Steve Scheuring at Baird and Warner
Allan and Jan Baldwin
Ginkgo Acupuncture
HeadEase
Gary Longstein at Allstate
Forest Park National Bank & Trust Co.
Winberie's
Lagunitas Brewing Company
Papa's Pilar Rum
Ernest Hemingway Foundation of Oak Park
---
---
---
John Cohassey to Lecture at
Rochester Hills Library
There will be a "Library Lecture" by John Cohassey at the Rochester Hills Public Library, 500 Olde Town Rd, Rochester Hills, Michigan on Thursday, March 2, 2017 at 7:00 pm. Cohassey, a Michigan Hemingway Society board member, will discuss the year 1919 when Hemingway decided to become a writer. He returned from WWI that year and spent the fall and most of the winter in Michigan.
Cohassey trained in the visual arts, and he played music professionally for many years before becoming a writer himself. He earned a master's degree in history from Wayne State University in 1995. His first book, "Toast of the Town: The Life and Times of Sunnie Wilson" (Wayne State Press, 1998), won an award of merit from the Historical Society of Michigan.
In 2007, Cohassey served as a consultant for the History Channel documentary, "Hippies." His most recent book is "Hemingway and Pound: A Most Unlikely Friendship."
From The Rochester-Avon Historical Society Newsletter Jan/Feb 2017. The lecture is free and open to the public.
---
Hemingway Events for 2017
by Janice Byrne
The 2017 calendar for Hemingway events is not yet complete. Nevertheless a few interesting items have been scheduled for this year. First was the Modern Language Association session "Hemingway and Imagism" held in Philadelphia this January. Next came the Key West to Havana boat race that began on January 22 and ended on February 3. The race consisted of four parts over the course of two weeks. While not particularly related to Hemingway biography, it does remind fans of Harry Morgan's trips along the same route in To Have and Have Not.
As for future events, the Oak Park Hemingway group is holding their annual Writing Workshop on February 2, 9, 16 and 23 under David Berner's leadership. While nothing else appears in February, there is a March first deadline for papers on Hemingway's works and biography to be presented at the January 2018 Modern Language Association in New York. That is only two days before the Moscow, Idaho, Hemingway Festival sponsored by the University of Idaho (March 3-4). The event is open to the public and is in honor of the PEN Hemingway Award given at the John Fitzgerald Kennedy Library each spring. This year PEN Hemingway will be April 2. Also in April (6 through 8) the University of Louisiana at Lafayette will host the symposium "Hemingway in the Global South."
The University of Arkansas at Piggott will sponsor a literary trip to Cuba on May 12 through 19. The group represents one of several long-term offerings of the Pfeiffer Home Museum. Similar trips for scholars (and now some also for the general public) are offered from time to time by several tour companies. Most include a donation to an organizing Hemingway agency.
As one might suspect, come June and July, things really begin to heat up. In Paris the Left Bank Writers Retreat runs from June 11-17 while the sixteenth International Colloquium Ernest Hemingway in Havana will meet June 15 through 18. Sponsored by the Finca Viga and the National Council Heritage, it is a premier event featuring Cuban scholars who whose work at the Museo Ernest Hemingway may be the basis for their papers. Next, the Sun Valley Writers Conference goes from June 30 through July 3. Note that a bike festival on June 29 through July 2 overlaps these dates. Perhaps with a slight stretch of the imagination one might be able to tie it into the bike races in Hemingway's fiction.
Of course, the main event for those interested in tauriana, the annual Fiesta San Fermin in Pamplona, Spain, is still on July 7–14. This seven days of running with the bulls, now famous around the world, popularized by Hemingway's The Sun Also Rises, has prompted other celebrations during the month of July, including the Key West Festival from July 18 through 23. The Key West Papa Look Alike competition will be held July 20-22 as a fundraising event for a local community college. On Friday, July 21, the Perry Hotel in Petoskey, Michigan will host an event celebrating Hemingway's birthday. Included in the celebrtion will be the premier showing of the new documentary "Young Hemingway: Finding His Muse in Northern Michigan." On that same weekend Santa Fe College in Gainesville, Florida, will hold its first Hemingway conference. Raul Villareal, son of Hemingway's Cuban major domo, Rene Villareal and his colleague Michael Curry are the organizers and promise a great program, including a talk by Valerie Hemingway. September brings another Hemingway Festival, this one in Ketchum, Idaho. Now also an annual event, this year's gathering will be held the weekend after Labor Day (September 7-9). The year rounds out with the annual Michigan Hemingway Society weekend in Petoskey October 6 through 9. Watch for news of other Michigan oriented events in 2017 and mark your 2018 calendar for July 22-29, the International Hemingway Society conference in Paris!
---
Where is Hemingway in Colleges and Universities?
by Janice Byrne
A recent informal search revealed that undergraduate and graduate courses including works by Ernest Hemingway might be fewer in number than generally believed. Surprisingly, of those responding only one offered course exclusively dedicated to his works. That is Institutio Hemingway in Bilbao, Spain. American universities listing courses in their catalogs that include Hemingway titles are Yale, University of New York at New Paltz, University of California at Riverside, University of Michigan, Flint, Misericordia College and Huston Baptist University. Not surprisingly, each of these courses is taught by an internationally acclaimed Hemingway scholar, including H. R. Stoneback, Nancy Sindelar, Matt Nicel. and Michigan Hemingway Society's Fred Svoboda.
The perhaps most important academic institution for Hemingway studies at this time is Pennsylvania State. Under the leadership of Sandra Spanier, Penn State covers the globe on a wide variety of topics as they produce new volumes for the Letters Project.
---
Bill and Donna Coté Scholarship for 2016
Awarded to Lily Rosenberg
The Michigan Hemingway Society exists to encourage the study of Ernest Hemingway's life and work, especially regarding his relationship to Michigan. What better way to do this than to foster an interest in Hemingway in a new generation? Long-time Society member Bill Coté suggested that a student scholarship be created and designed to bring young students to read, understand, and appreciate the novels and short stories of Ernest Hemingway. The Board of Directors is delighted to announce the creation of the Bill and Donna Coté Scholarship Fund.
This year the very first Bill and Donna Coté Scholarship has been awarded to Lily Rosenberg, an eleventh grade student at West Bloomfield High School in West Bloomfield, Michigan. Read her award-winning essay "Hemingway's Pure Michigan." Lily has been actively involved in her school's one-of-a-kind Literary Garden, a project that repurposes neglected courtyard space to feature plants collected from the homesteads of American authors, along with those plants featured prominently in their narratives. The garden showcases the plants collected from over 30 authors, including mint from Horton Bay to represent Hemingway. We were thrilled to have Lily and her teacher, Jennifer McQuillan, with us at the fall conference. We look forward to continuing this important scholorship in the coming years as we do our part to introduce new readers to Hemingway and provide them with the opportunity to share their interest with others.
If you would like to actively support this scholarship, please contact Christine Ney at info@michiganhemingwaysociety.org for details. You can help by donating online or by sending a check to the Michigan Hemingway Society, PO Box 922, Petoskey, MI 49770, specifying a donation to the Bill and Donna Coté Scholarship Fund.
---
A list from Janice Byrne
---
by Janice Byrne
---
A list from Janice Byrne
---
A note from Art wagner
---
---
---
---
---
The Michigan Hemingway Endowment at Central Michigan University was founded in 2003 to accomplish three goals:
•           Enable the Clarke Library to purchase material by or about Ernest Hemingway.
•           Preserve the Hemingway-related material in the Clarke collection.
•          Educate the public about the influence of northern Michigan on Hemingway                    
and the place of Michigan in Hemingway's works.
A recent acquisition to the Clarke Library was one the family scrapbooks made by Ernest Hemingway's mother, Grace Hemingway.
The current Endowment principal is approximately $37,000. A fund raising campaign is now underway to raise another $63,000 for the Endowment, growing the principal to $100,000, which would enable further collecting, preservation and outreach activities.
Thanks to the Michigan Hemingway Society board and individual members who have already contributed. To date 26 gifts totaling $22,725 have been received, plus a documented planned gift of $10,000, which totals about 52% of the goal.
Your support with a gift to the endowment, large or small, may be given through a tax deductible contribution to the Clarke Historical Library. Please specify that the contribution is for the Michigan Hemingway Endowment.
For more information about the endowment
or to discuss a possible donation of material please contact:
Megan Moreno
Director of Development and Community Outreach
Central Michigan University Libraries
(989) 774-1826
megan.r.moreno@cmich.edu
---
The Lansing Community College in Lansing, Mchigan unveiled their newly renovated Arts & Sciences Building in the Fall of 2013. The building, originally designed to serve students in the 1960s, has become a flexible, learner-centered space that encourages both formal and informal interaction between students, faculty, and academic areas.
According to their website at http://www.lcc.edu/buildforward/project/as.aspx:
"The Ernest Hemingway Conference Room [is] named for one of the world's most notable authors who spent 22 summers in northern Michigan."
---
The quiet campground on the East Branch of the Fox River seven miles north of Seney, Michigan, was the site of a gathering of Hemingway fans, Michigan Department of Natural Resources Personnel and members of the Michigan Outdoor Writers Association on Wednesday, August 14th, 2013. The event was the official dedication of a new historical marker celebrating a 1919 fishing trip to the Upper Peninsula that writer Ernest Hemingway turned into one of his most famous short stories, "Big Two-Hearted River." The marker is one of a series of markers MOWA has placed in recent years. The limestone and aluminum Hemingway marker is the fruit of a cooperative effort between MOWA and the DNR.
It was a beautiful day and more than 40 people were in attendance. Hemingway's nephew, Jim Sanford was asked to speak and told some very interesting stories about life on Walloon Lake where the Hemingway family's summer cottage was located. It was pretty special! Others attending included Jim Sanford's wife Marian, Michigan Hemingway Society and International Hemingway Foundation and Society members Nancy Nicholson, Janice Byrne and James Byrne, MOWA President David Graham, Seney Township Trustee Don Reed, Director of Michigan Department of Natural Resources Keith Creagh and DNR spokesman Ed Golder.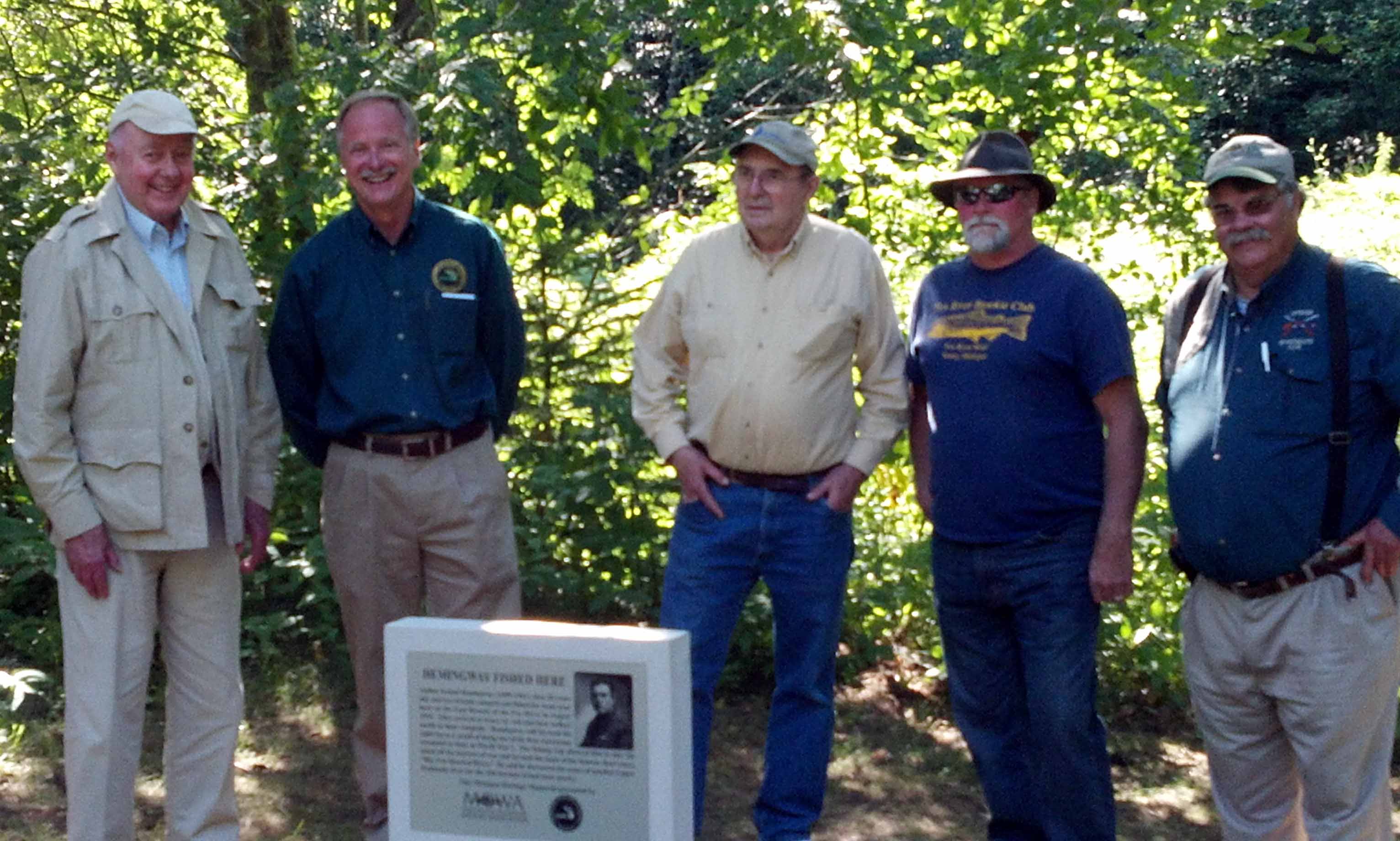 "MOWA's members think it's pretty special that a story about fishing on the Fox River 94 years ago is still one of Hemingway's best-loved stories," said MOWA President David Graham. To learn about MOWA's Michigan Heritage Memorial program visit www.miowa.org/mowa-heritage-memorial-sites.
"We were delighted when MOWA approached us about placing this marker at a DNR state forest campground," Creagh said. For additional information visit the DNR website http://www.michigan.gov/dnr/0,4570,7-153--309820--rss,00.html
You can also visit the marker itself located at the Fox River State Forest Campground in Schoolcraft County on the East Branch of the Fox River seven miles north of Seney, Michigan, on highway M-77.
Thanks to Jan Byrne, Nancy Nicholson, the Michigan Outdoor Writers Association and the Michigan Department of Natural Resources for contributions to this article
---
Our founder, Dr. Joseph J. Waldmeir, Jr., died September 12 at age 89. Of course, we all knew him as Joe. And it's a poorer world without him in it.
Joe was an internationally recognized author, critic, and literary scholar. In addition to his own work, he was responsible for publishing the "Hemingway Up in Michigan Perspectives", a collection derived from papers presented during a 1991 gathering in Petoskey. It was that gathering, held at the Perry Hotel, that convinced Joe a Michigan Hemingway Society was a viable vision, and he worked with patience and perseverance, and Fred (Svoboda) and Ken (Marek) and me, until it happened.
Our first conferences were very modest affairs; we weren't yet plugged in to the Hemingway stars of the literary universe. Joe helped us do that. Our first conferees were the great unwashed, who came to learn what this Hemingway guy was all about. Joe taught us in such a charming way that we kept on coming back for the annual dose of literary enlightenment and fun we called our fall conferences. And so, over the past 25 years, we have become a respected organization on the Hemingway roster. Because Joe attracted the right kind of people, when he moved away to Iowa, we kept moving up the ladder. Although Joe couldn't be with us last year when we were selected to host the Hemingway Society's biennial conference, his fingerprints were all over the place.
I learned from his obituary in the Detroit News that he served under Patton during the Battle of the Bulge; that he was a Fulbright scholar who taught in Ireland, Finland and Denmark; that he earned his Doctorate at Michigan State University and was a professor there for four decades. That he was kicked out of high school in the 11th grade. Maybe that explains the huge openness with which he greeted anyone who showed any trace of intellectual curiosity. He is, hands down, the best teacher I have ever had, in or out of school. He never waved his CV under anyone's nose, but he was always there to discuss life and what literature had to teach us about life. And he started, not from his lofty position, but from the place occupied by the other person. No wonder one always came away from a conversation with Joe feeling so much smarter, so encouraged about untapped potential, and so eager to dig deeper.
This is not to say he was perfect; nobody is. I hate those eulogies that sanctify their subject without acknowledging the existence of a shadow. We all have a shadow, and in literature, isn't it the shadow that makes the most compelling story? Shadow and all, Joe was my friend and I miss the man. We aren't likely to see any like him soon, and I hope his family knows that we know, what a treasure has been lost with his passing.
-Audrey Collins McMullen
---
"These scrapbooks, lovingly compiled by Grace Hemingway, provide an unprecedented glimpse into the making of one of the greatest writers of the 20th century," said Tom Putnam, Director of the John F. Kennedy Presidential Library and Museum. "From the everyday minutia of childhood, to priceless early correspondence and writings, the scrapbooks are a treasure trove for anyone interested in the early life of Ernest Hemingway."
Spanning the years 1899 to 1917, the scrapbooks tell the story of Hemingway's childhood growing up in Oak Park, Illinois, and vacationing at the Hemingway family's cabin in Northern Michigan.
The above comments are quoted from the JFK website. See the full JFK text at http://www.jfklibrary.org/About-Us/News-and-Press/Press-Releases/Hemingway-Scrapbooks-Made-Available-to-Public-for-First-Time.aspx
"From his birth to his high school graduation, Ernest Hemingway's mother kept photo filled scrapbooks documenting his life -- and his summers in Michigan. The JFK Presidential Library (where Hemingway's papers are preserved) has just posted digital versions of the 5 scrapbooks at its website. This is a great resource for those interested in his Michigan experiences."
-- Michael Federspiel, President of the Michigan Hemingway Society

---
Mr. Artman and his wife exchanged homes with a Parisian family and found themselves living in the Latin Quarter of Paris, only a few blocks from where Ernest and Hadley Hemingway lived when they moved to Paris in the 1920's. Long interested in the Hemingways, Mr. Artman's vacation became a research trip into "Hemingway's Paris," walking the pathways traveled by Ernest and Hadley and visiting the haunts they found intriguing so many years ago. Join us, as Mr. Artman takes us along for the journey. Retired educators from Port Huron, MI, Mr. Artman and his wife, Anita Shagena are both two time CMU Alumni and members of the Michigan Hemingway Society.
7:00 pm – Park Library Baber Room
Reception to follow.
Open to the public without charge.
For more information contact Frank Boles at the Clarke Library, 989.774.3352 or boles1fj@cmich.edu.
Individuals in need of a accommodations due to a disability while using the library should phone 989.774.1100.
For more information on the Clarke Historical Library: click here.
---
Hemingway's Life in Michigan Documented in New Historic Treasure
Ernest Hemingway grew up in northern Michigan, a process his mother lovingly documented for him, and for all her children through a series of family scrapbooks.  One of those remarkable scrapbooks, created for Ernest's sister Ursula, was recently added to the many Hemingway items found in Central Michigan University's Clarke Historical Library.

The over 100 page album is entitled, "Ursula Hemingway, Book IV from July 1st 1913 to July 1st 1916, Eleven years 2 months to Fourteen years and 2 months old". The 121 original photographs found in the album, virtually all carefully annotated by Grace Hall Hemingway, document the family through images of children partying, family dinners, group images at the Walloon Lake summer cottage in northern Michigan that the family loved and that was so much a part of the Hemingway life, as well as their Oak Park, Illinois home. The album offers a thorough and fascinating insight into the cottage life of a typical family in northern Michigan at the beginning of the twentieth century. A typical summer family with one unusual characteristic; a child who would win the Nobel Prize for Literature.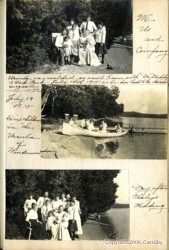 For those interested in Ernest Hemingway there are approximately 21 images showing the young Ernest, many in group family shots, some individual pictures with him as the young fisherman holding trout, playing on the waterfront in and around boats and canoes. One small portrait photo is a wonderful image of the young Ernest. Another wonderful photograph is labeled as "the 6 children taken together for the first time," and includes a smiling Ernest and everyone in their Sunday best, photographed with the family's newest (and as it happened) last infant child. Another photograph shows Grace and Dr. Hemingway's 19th wedding anniversary with all six children together. The album also includes many letters including notes to "Ernie."

Ursula's album joins an extensive collection of material documenting Ernest Hemingway's life in northern Michigan that is found in the Clarke Library. These include four letters written by Ernest Hemingway in or about northern Michigan, unpublished, original material written by the young Ernest, a large existing collection of Hemingway photographs and an extensive collection of printed works, including such iconic volumes as Asa Gray's Manual of the Botany in the Northern United States given to Clarence Hemingway by his wife Grace, kept at the cottage, and likely frequently consulted to answer questions raised by Ernest and the other Hemingway children.

The acquisition of the album was made possible by the Michigan Hemingway Endowment, a fund created in the Clarke Library to support acquisition of material about Ernest Hemingway's Michigan years, a generous gift by the Michigan Hemingway Society, the Friends of the CMU Libraries, and other private contributions.

For more information about the album or the other Hemingway material in the Clarke Historical Library, contact Frank Boles at boles1fj@cmich.edu boles1fj@cmich.edu or by phone at 989.774.3352.
---